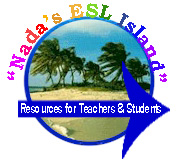 International Association
of Web Masters & Designers





Sites For Teachers:
The Top 100 Web Sites
for Educators
The Linguistic
Funland / TESL:
Resources for teachers and students of ESL/EFL since 1994
The Top 100
Web Sites for Educators
PERSONAL INFO...
Who is Nada Michel Salem?
I hold a B.A. in Languages-- Arabic, French and English;
an "Attestation de Maîtrise" in Translation;
a Teaching Diploma in TESL/TEFL--
Teaching English as a Second/Foreign Language;
and an M.A. in Teaching English as a
Second/Foreign Language.
I just started taking courses towards an Ed.D in
Higher Education Administration.
Master's THESIS:
"The Role of Motivation, Gender, and Language Learning Strategies
in EFL Proficiency" (Html / References)
My Resume | My Family | Where I Taught | My University Projects | My Students' Projects
[Sites that Link to Nada's Pages] | [Montgomery- Alabama Page] | [Emails Received] | [Nada's Flag]
[Middle-East Educator Magazine: Interview with Nada Salem Abisamra]
"Students Teaching Students -
Peer & Cross-Age Tutoring... A Step Further!"
Organized Links:
For Teachers | For Students | For Web Page Design | For Lebanon | For French | For Search Engines | Miscellaneous
Research Sites
A Midsummer Night's Dream
(Simplified)
---
Web Page Design

---

Page Created on September 8, 1998 || Last updated on December 4, 2007
Copyright © 1998-2007 Nada Salem Abisamra.
http://www.nadasisland.com/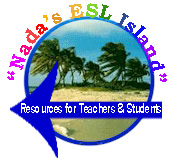 Member of "Kappa Delta Pi"
Pi Pi Chapter 400
Since May 2000
Kappa Delta Pi is dedicated to
promoting excellence in and
recognizing outstanding contributions
to education.


"Teachers of English to
Speakers
of Other Languages"

William Glasser's
"Quality School Teacher"...
Notes
Sign My Guestbook


View My New Guestbook
View My Old Guestbook